Testimonials
I called these guys Friday afternoon before a holiday weekend and knew it may be too late for delivery.. But the staff took my order said they'd do their best to deliver the flowers before she left for work. Sure enough it was on time and beautiful, she loved it. She had been having a horrible week, so this definitively turned it all around. Thank you guys so much!
Flavio
---
Hey Mary and Karen….I received a beautiful dish garden from you all last Thursday, after I was home recuperating from surgery I had on my hand/wrist that morning. It was beautiful and I posted a photo of it on facebook and this was a message I received from a friend who used to work here…thought I would share it with you in case you want to use it on your webpage under the customer comment section…just FYI:

"Your flowers are the most beautiful I've seen in a long time. What florist did them? I would only use them from here on out. And the reason for these gorgeous flowers?"
---
To Buds, Blooms & Beyond,
I wanted to share with you the message I received from our employee who received the flowers I ordered from you the other day. Thank you very much for making a nice arrangement with our limited budget.
"I wanted to say thank you to the department and to the local for the beautiful flowers, we love them. Mom and little Ava are doing great! Thank to everyone for the phone calls and texts during the process. Stay safe out there! Andy Bittner 66A"
Lynn - Palm Harbor Fire Rescue
---
Dear Mary, Bradley and all,
Thank you for your expertise in making the weekend events for the Li family so spectacular! My clients were immensely pleased with the beautiful florals. I am grateful for your professionalism and camaraderie that helped execute a very special celebration. Eventfully Yours,
Cindi Koch Event Designer Sabella Berman Events
---
The flowers for the podium at graduation were a success. Everyone adored their beauty and liveliness. The presentation flowers were beautiful and vibrant. You all were phenomenal in your work, customer service, and product presentation.
Thank you again.
Victoria Harris
BDCHS
---
Hi Mary!
They were beautiful!!! Thank you so much! We loved them. :)
Ashlly Single
---
I am truly grateful for the rush order I picked up today. (I needed it in one hour.) It was beautiful and timely! I have used them for a few years and I have never been disappointed. :).
Claudia D
---
TO ALL OF YOU WONDERFUL BUDS BLOOMS AND BEYOND PERSONNEL, I was not here yesterday when the baskets were delivered, but......THEY ARE BEAUTIFUL!!!
THANK YOU ALL FOR YOUR HARD WORK AND THE PRESENTATION IS JUST FANTASTIC!!!! OUR CLIENTS WILL LOVE THEM!!!
AGAIN, THANK YOU!!
Dot
---
Karen:
It was a real pleasure doing business with you. Placing the other was a very pleasant experienc.e I am definitely keeping your business information in my telephone directory.
With appreciation,
Marlene
---
It looks wonderful!!!
Thank you so much for sharing the pictures!
I'm very happy that I contacted your shop for my order.
Anita
CUNA Mutual Group
---
Hi Mary,
I just wanted to let you know that the centerpieces that you made for my group yesterday were very beautiful and my client was very pleased. Greatly appreciated.
Warm regards,
Myriam Tutoy
Catering & Convention Services Manager
Grand Hyatt Tampa Bay
---
Thanks so much! The centerpieces at our event on Tuesday were GORGEOUS!! Thank you so much again for such great service and a wonderful product. We will talk with you again in a few months for our Q2 banquet.
Have a great summer!
Stefanie Johnson
Capital One
---
Everything worked out perfectly! Thank you so much for making this the most memorable Valentine's Day I've ever had. Carrie's recommendation was spot on!
SFC Andrew Wildes
---
Nicole:
The basket of chocolates, candy and cookies we ordered was delivered to our granddaughter Ana this morning at Berkley School. Our wish to give Ana a surprise was achieved and caused a sensation among all her classmates. Ana was very excited and delighted and everyone prised the presentation and decoration of the basket. We appreciate your excellent work and service. Thanks!
Jose M. Pizarro-Zayas
---
Good morning Miss Mary,
Thank you for the receipt for our records. I want to commend you on one, the flowers/cross were beautiful. Great job! I also want to say how refreshing to do business with you, you responded promptly to my request in the initial order. You actually picked up the phone and called me vs responding to my email, you assured me it would all be taken care of and it was. Your suggestions were perfect. I also received your letter/package giving me all the information on your business for future yes, thank you. It is so awesome to do business with someone whom takes their business personal and believes in top notch customer service!! I will continue to bring you my business and let others know how wonderful you are. Have a terrific day and thank you again!
Tamara Hoyland
Vice President of Finance
H&R Depot, INC DBA Tobacco Depot Mary
---
My family would like to thank you for the beautiful arrangements for Mike. Your shop did and awesome job and we would definitely recommend you. Thank you also for treating our requests with TLC.
Joanie Parker
---
The centerpieces were GORGEOUS! They were the perfect size and they really went great with the overall décor. I also really appreciate you getting them dropped off so early. I definitely looks forward to working with you all again on future banquets. Thank you so much again. I couldn't have asked for a better display for our tables, honestly. I would have done these years ago if I knew how great they could be within our budget.
Stefani Johnson
Capital One
---
My wife really enjoyed the rose arrangement. They all bloomed almost simultaneously. You hit a home run on this order.
Thanks,
Mike DiChiara
---
Dear Mary, Carlos and Bradley,
Wow!
The centerpieces created for Sarah's Bat Mitzvah were beyond beautiful. We stopped by the temple earlier in the day on Saturday and when we saw the Bima flowers, we were very impressed.
It left us feeling great anticipation for the evening flora display. Our greatest expectations were blown away when Bradley appeared with the most gorgeous arrangements for the main dining room!
Everyone at Buds Blooms and Beyound were a pleasure to work with. We appreciate the professionalism, timeliness, and creativity. The flowers made the affair a visual success and we couldn't be more proud of our collaboration.
Thank you one and all,
Eventfully yours,
Cindi and Lexi
Sabella Berman Events
---
My daughter ordered an orchid plant for me from Blue Point, N.Y. She did it by looking for a florist nearest to Westchase. I was thrilled when it arrived. Not only is it beautiful but I am a member of Newcomers of N.W. Hillsborough you are so generous to our organization each month providing a beautiful arrangement. When I called her to thank her she said she would remember that the next time she wants to gift me with flowers, thank you for all you do for us.
Madeline
---
Karen & Staff,
THANK YOU! I have never been disappointed, this time you exceeded my expectations. When I explained my son had just been named Teacher of the Year I asked if you could write that on one of the balloons in the arrangement/balloon piece, what you made was super!
He has it on display, as you can see in the attachment & really enjoyed the surprise. Anyone looking for customer service rated A++++ Bud Blooms & Beyond is your florist, you will never find better people to work with.
God Bless,
Mrs. J
---
Mary;
Wanted to let you know I read the article about Buds, Blooms, and Beyond yesterday on the plane to Bismarck, ND. Congrats on the hard work, dedication of your team, and Sykes is proud to be a partner with your company, I am very pleased with the services you provide and continue to provide to Sykes.
All the best,
Tom
Thomas R. "Tom" Kott
Director -- Real Estate
Sykes Enterprises, Incorporated
---
Hello Everyone!!
Fabulous job on the Flowers and Gift Baskets!!
Make it a great day,
Colleen H. Laurain
Director of Sales
Best Western Bay Harbor Hotel
---
I have to tell you, these flowers you sent are still absolutely beautiful and sooo healthy still...I changed the water today and all of the stems are still fresh, no slime, nothing, and I have had soooooo many compliments, everyone loves them...and I tell them what florist they are from...they are like people attractors to my desk...every one who comes in notices them and comes to look at them...kudos to the designer there that arranged them, absolutely wonderful! Thank you again for making my week!
Lori Riski
---
Dear Ms. Conte,
We at Memorial Middle School would like to thank Buds, Blooms & Beyond for supporting our 2nd Annual Mom and Me Tea Time event. The students and their mothers were able to meet with school staff, obtain information for the summer and spend quality time. The single wrapped flowers donated by Buds, Blooms & Beyond were truly appreciated. Maddy Hall
Memorial Middle School
---
I wanted to write and say "Thank You" for the great service we received on the above referenced order number. I really appreciated the extra efforts that the delivery representatives took to ensure my Mother's flowers were delivered in time for Mother's Day, I know it must have been a very busy day, yet still they ensured this delivery occurred. Also, although I did not see the arrangement, Mom told me the arrangement was absolutely stunning. When she described it to me, it sounded like it was even more beautiful than the picture online. Thank you so much for making the arrangement so special for her. I have typically used a different florist in the Tampa area, however based on this experience, I will definitely plan to contact you for my future floral arrangement needs. Mom told me that she would do the same based on this entire experience. Thanks to everyone at Buds Blooms and Beyond for making this such a positive experience!
Regards,
Beth Johnson
---
Hi Mary,
Just getting back into the normal work mode and out of party mode. The centerpieces were absolutely fabulous!!!!! The Hyer Family was so impressed how you and your team incorporated the product containers and decorating theme to match our event. It was a huge success.
Please thank everyone for their hard work on this project. Can not wait until next year's Christmas Party Planning.
Thanks, Debbie Scott
HR Director
Gardner Gibson
---
Hello Mary and Staff, I want to thank Buds, Blooms and Beyond on behalf of the Florida Thespian Festival for the beautiful flowers and wonderful service provided by you and your staff. The flowers were a huge hit and the presentation went beyond my expectations. Daron Hawkins was very happy with the roses and how beautiful the boxes looked. Great Job!
Thank you,
Carlos
---
Hi Mary!
Just wanted to thank you for the beautiful flower arrangements for Christi's baby shower. As usual, I couldn't have asked for anything more, and the guests raved about them.
Take care and thanks again,
Connie
I placed a last minute order on Friday afternoon for a flower delivery. I just want to thank you and also share some feedback from the person who received them. She is recovering from a really painful surgery. The flowers really cheer her up. "I wanted to send you a BIG thank you for the gorgeous flowers I received home Friday. The bright colors are wonderful in my home, they lift my spirit and I stare at them all the time."
Sophie
This is Toni Hoover. I received the most beautiful roses this morning. I just wanted to compliment you, everything I receive from your florist is exquisitely done. Thank you for all your hard work, it truly shows.
Toni
Good Morning Mary,
Thank you so much for working with my budget for the order we placed for the Memorial Service. The arrangements were much more than I expected and absolutely beautiful. As always, you all do a fabulous job and always take care of us.
THANK YOU!
Michelle Karamitsios
Human Resources Manager
Tampa Marriott Waterside Hotel & Marina
I have never emailed anywhere before when I have had flowers delivered to me. But, in this instance, I think it is necessary. I received a bouquet of flowers from my boyfriend for Mother's Day and I have to say, this was the most beautiful arrangement I have ever seen. I am pretty sure every girl in the office walked by and commented on how beautiful they were.
Thank you so much,
Angel A. Dellapo
---
New Mom loved it so did we!!! Fantastic job!!!
Thank you!
The Cumming Group
---
Our employee Shaune sent us a picture of the flowers she received. Shaune's mother was at her home and said when she opened the door, the flower arrangement took her breath away. The arrangement is stunning!
Just thought you would like to hear some appreciation of the wonderful artistic and creative work that you all do.
Many thanks!
Linda Burgos-Wood
Kisinger Campo & Associates
---
They were perfect. Got to see them when they were delivered. This is the reason I use Buds, Blooms, & Beyond.
Thank you,
Jan Porter
---
I just wanted to take a moment and thank you sincerely for the wonderful job you did for me recently. ALL of the flowers were absolutely gorgeous and just what we needed. I received rave reviews for the centerpieces as well as the boutonnieres and corsages.
Thank you very much,
Candace "Candy" Murray
Conference Planner
---
My niece absolutely loved the arrangement!! You all did a fantastic job, they are beautiful!!
---
Thank you so much for taking the time to make exactly what I wanted! We will definitely use your shop again! Have a good weekend!
Kathy and Ray Banales
---
I am attaching a photo of the arrangement (which still looks pretty darn good)so you can see what I am talking about. ;-)




I just wanted to take the time to say thank you so much for the most wonderful and beautiful bouquet of flowers I have ever received!! My wonderful daughter has been sending me lovely bouquets for years, from a number of florists in the area...and I have enjoyed them all.
However, I have to say the one I received from your shop for Mother's Day was definitely something specail...a bouquet to behold...so full, fresh, and lovely, plus the design and craftsmanship was just fantastic! Extremely elegant. I told my daughter that it made me want to learn the craft and do this myself. What a wonderful and creative way to spend your day!
Anyway, keep up the great job of delivering smiles and happiness! I will recommend your shop to everyone I know.
---
Just thought I'd let you know that my mother-in-law thought the basket was absolutely phenomenal!! She was gushing and gushing over it. She said it was like nothing she'd ever received before that it had everything in it and she just couldn't get over how beautiful it was! Thanks so much...
Laura Coplon
Office Manager
Marketing Services
Executive Assistant
Opus South Corporation
---
Mary,
You and your team are always helpful and give great service whenever I place an order. Not to mention the flower arrangements are always beautiful!
Thanks,
Dana
Sykes Enterprises, Inc.
---
Just wanted to say thank you very much for making my wife cry with happiness. I've had flowers delivered to her before without much fan fare, but your fresh arrangement of flowers overwhelmed her to the point of tears! BRAVO for making her Valentine's Day a day she won't forget!
James
Tampa, FL
P.S. remind me for Mother's Day, thanks again!
---
Ya'll delivered flowers to a patient of ours last week and she RAVED that they were the most gorgeous she has ever received! Thank you!!!!
Wendy Sue @ The Women's Group
---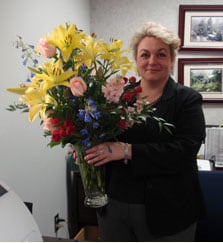 Mary,
Just a quick note to say thanks for the beautiful arrangement you made yesterday for our friend at Tampa General. She loved them and I forwarded the pictures to a # of people. I have already had several people inquire where the flowers came from. Hopefully this will generate some future business for you.
Thanks again!
Sincerely,
Scott Jeffers
Medisafeamerica
---
I just wanted you to know that we received a wonderful thank you for a gift basket recently sent to one of our employees. They were so thrilled with the amount of things and the beauty of the basket that they took a picture and sent it to us with their thanks. Hope all is well!
Regards,
Sharon M. Henriquez
Vice President
Henriquez Electric Company
---
Hi! My name is Candy Brown. I placed an order with Karen on Friday, September 10. It was my very first order with your company. I just wanted to let you know I was very impressed. Karen was very helpful. I called while I was at work and told her I wanted to send flowers to my mom, I told her my mom's favorite color is orange and to do what she thought was good. The flowers were beautiful. My mom got so many compliments. I used to use a different florist in Tampa tp send my mom flowers at work. I will be placing my orders with you from now on. Thank you very much for your great customer service and wonderful arrangement.
Sincerely,
Candy Brown
---
"Birds of Paradise are one of my favorite flowers!!! And the flower arrangement you sent me is absolutely beautiful! They have 5 flowers! I am looking at it right now; they are sitting here on my piano. I can't thank you enough."
Dr. Walter Smith
---
"Right as I was rushing out to leave another meeting, I was stopped in my tracks by a beautiful orchid plant and a wonderfully pleasant delivery professional. This is just a beautiful product and after having seen the product, just exceptional value for the per piece cost. Again, many thanks for your beautiful work and impeccable service!"
Erin M. Hinton Officer,
Market Development Specialist, Bank of America
---
"Greetings...On Tuesday, I placed an order for my Aunt's birthday and we heard from her last night. She said the arrangement was just beautiful and it made her so happy. I just wanted to say "THANK YOU" for making her a beautiful arrangement and boosting my confidence in placing my order since I can't actually see the end product because I am in Sacramento, CA. Thank you for your great work. I am a very happy customer!"
Carol Ortega
Department of Technology Services, Cannery Campus
---
The flower arrangements were BEAUTIFUL!!! I received many great comments about them. And I loved the corsages & boutonnierres too. Thanks again for the wonderful arrangements. I will definitely use you if I am ever in the Tampa area again!
Terri Ogden, Zaner-Bloser
---
The flowers were great! FedEx Staff loved them. Thank you so much for the wonderful arrangements. Next time when we have an event in the Tampa area that needs centerpieces, I will definitely give you a call.
Steve Pan
---
The party was great, she was surprised and the flowers looked awesome!!! Thank you so much,
Keith Gibson,
Knowledge Accelerators
---
"I just got word that the floral arrangement that you sent on my behalf to 'recipient's name' was absolutely gorgeous. She was so very very happy with it. Thank you again!"
Teri A. Biengardo
Hill. Ward & Henderson, P.A.
---
"We all saw the picture of the basket that you made up. It looks fantastic! Our cousins were very pleasantly surprised to receive the basket, they said it looked very nice. Thank you for being very friendly and professional. We felt confident that you would do well by us and had surpassed the expectations that we were hoping for."
Jeanie, Deanna, & Family
---
Hi Mary and staff at BB & B,
I receieved flowers from your shop on Monday, and just wanted to let you know that they are attracting a lot of attention this week here at work!
My boss has put your information in his Blackberry, he's so impressed with the flowers. Some of the lilies are STILL just opening, and whatever these green stalks are suddenly have little blooms opening up too. I thought they were "just" greenery, but they have flowers too!
The whole 5th floor of our building is fragrant with the lilies and statice. People have actually been sniffing out my cube to see where it's coming from!
Thanks for delivering another exceptional and delightful flower arrangement.
Sincerely,
Amy DeStefanis
Chase Paymentech
---
Hi Karen,
I just got the feedback and a picture of the flowers you guys have sent. They are beautiful. She loved them and after seeing the picture she mailed me I think the same!! Thanks so much, for the careful consideration and your truly personal effort. I appreciate it a lot. Please convey my thanks to the designer who put together such a marvelous bouquet, it truly looks very romantic and is exactly what I wanted . Thanks for the beautiful creation and your superior service. I am sure I will be coming back to you guys for more. A Truly happy customer,
Anhul
---
Mary,
It was gorgeous and so were the flowers!!!
Thank you and have a wonderful and blessed Thanksgiving.
Anita Evans
Marketing Director - West Coast Ed Morse Automotive Group
---
Mary,
We just received the flowers and they are BEAUTIFUL!!! She LOVED them!! Thank you SOOOOOO much for doing this so last minute and for a super speedy delivery!
Will order again!
:o)
Thank you,
Karen
---
Hi All,
Just wanted to let you know that the family loved the arrangement. We were told it was very colorful and pretty -- the nicest one there. We've had similar feedback in the past (for both masculine or feminine arrangements) and I just thought you would want to know that the florists you work with are doing a great job!
Thanks for doing what you do so well, as most of our delivery requests are for funerals and the families are glad for this "bright" moment in their day.
Kind regards,
Patty DeCambra
Executive Assistant